Our company was founded in Kyoto
in 1921, as a silk material trader
for spun silk yarn.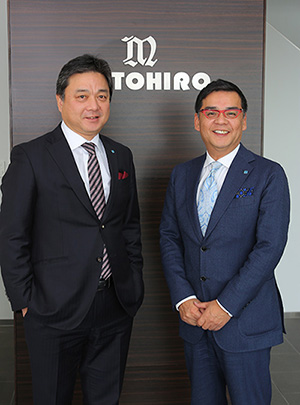 After 1945, we had changed the main material from silk to wool, and have been evolving into a global textile trading company, with a number of offices in China. We also started our restaurant business in 1991, our lifestyle business in 2001, and our chemicals business in 2011. Today, these three businesses unit work in tandem with our founding textile business and international business.


Corporate Profile
Company Name

MOTOHIRO & CO., LTD.

Date of Foundation

1921

Date of
Establishment

1951

Stated Capital
(million yen)

24

Representative
Director

The President Director Tetsuya Motohiro
The Executive Director Tsuyomi Motohiro

Head Office

162, Hiroosa-cho, Shimotoba, Fusimi-ku, Kyoto-shi,612-8473, Japan Access map
Tel:+81-75-611-2195 Fax:+81-75-612-0976

Our Businesses

Textile business
We originally started as a silk trading company and now we deal with world-wise fibrous raw materials. We manufacture natural fibrous material, mainly wool; which is sustainable and has unlimited potential for new business.

Restaurant business
We expand eating-out business in Kansai Area - franchising restaurants; "BIKKURI DONKEY" (hamburger steak), "MARUGEN RAMEN" (Chinese noodle) and original restaurant; "KATSUDON GEN" (pork cutlet bowl)
We pursue safety and security of food and bring joy and fulfillment to your life.

Lifestyle business
We produce and sell "SKI YARN" (a hand-knit yarn brand), other handcrafts. We also sell plastic material in the field of engineering plastic, dyes, and byproducts of wool as exemplified by organic fertilizers and wool grease.
We make a social contribution with our products.

Net Sales
(Million yen)

17,700-(in 2022)

Partner Bank

MUFG Bank , Ltd.
Sumitomo Mitsui Banking Corporation
The bank of Kyoto, Ltd.
Mizuho Bank, Ltd.
The Shoko Chukin Bank,Ltd.