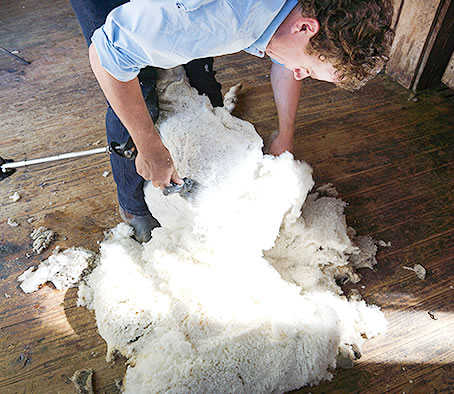 WOOL PROFESSIONALS FOR SELECTING BEST GREASY WOOL AT LOCAL AUCTIONS
As the professional buyer of wool based in Sydney, Australia, our main business is exporting Greasy wools bought at wool auctions to our joint venture factories in China, process into wool tops for worsted spinning, and then sell all over the world. Focusing on purchasing exactly what the clients require keeps our clients highly satisfied. Wool Top is one of our main items, and the fineness is from 15.5 to 32.0 micron.
These wide ranges of micron enable our clients to select their exact items,hence, we are also able to provide even unique wools with high scarcity value.
In Japan, we are proud of being the only company that updates the latest information about wool from Australia.

Wool Department
Worsted Wool Department

Greasy wool purchased in Australia are processed in our joint venture factories, and they are mainly sold as worsted wool raw materials for worsted spinning.
Recently, sales have increased not only in Japan but to manufacturers in China through Japan SPA orders.

Indent Order Department

More than 90% of the wools in Australia are purchased at wool auctions. We are the only company in Japan that has an office in Sydney to purchase wools,and Japanese staff takes responsibilities for wool purchase. Indent ordering can be said to be a system where purchases are made based on clients' need, the market price limit and other factors.

SPA Department

Discussing directly with retail chain stores, we strive for offering stable supply and stable pricing by securing materials that meet clients' needs on in the long run. We pursue safe and high-quality materials convincingly enough to keep traceability of the farmers and the producing regions. From a viewpoint of kindness to animals, we will supply honest materials by making a monitoring into small details that are unseen.